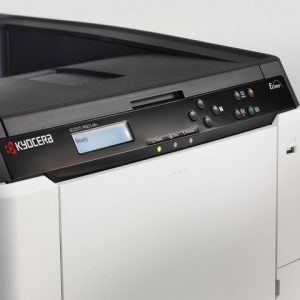 Kyocera ECOSYS printers could soon become the go-to devices for small and large businesses alike, with the announcement that Kyocera have introduced three new machines to their comprehensive colour laser range.
The ECOSYS P6021cdn, ECOSYS P6026cdn and ECOSYS P6030cdn are ideal for organisations of all kinds – from SOHO to large workgroups typically printing up to 15,000 pages per month, delivering vibrant colours and impressive print quality.
All three Kyocera ECOSYS printers can be enhanced with WLAN functionality and have Mobile Print and AirPrint compatibility as standard.
The new additions to the range incorporate the benefits of Kyocera's unique, award-winning ECOSYS technology. The 'toner only' concept of the Kyocera ECOSYS printers improves reliability and dramatically reduces the overall printing expense by reducing direct and indirect costs generated through the lifetime of each device. Waste is significantly lowered and TEC values have been reduced by up to 40%.
Model Naming Convention
These devices are some of the first to benefit from Kyocera's new product naming convention which includes the ECOSYS name to highlight the company's long-life technology and heritage in sustainable printing.
The Kyocera ECOSYS printers name stands for: ECOlogy, ECOnomy and SYStem printing. With their long-life components ECOSYS devices are designed to maximise durability and to minimise the total cost of ownership. These new products embody the principles of award-winning ECOSYS technology, offering the customer low running costs whilst reducing the impact on the environment thanks to their adherence to the very latest Blue Angel and Energy Star standards.
Productivity and The Environment
Steve Mitchell, Group Product Marketing Manager, Kyocera Document Solutions UK Ltd said: "Businesses and their office workgroups are moving faster than ever and by accelerating workgroup productivity without compromising on environmental features these products really stand out with their excellent print quality, low TCO and high performance print capabilities.
"KYOCERA provides exceptional choice for offices requiring high performance colour printing but who would normally find the costs of colour printing prohibitive."
Need Help or More Information ?
If you need any further help or more information, reach out to us by leaving a comment below or through one of the many ways on our Contact Us page.
Alternatively you can contact us by Phone on 0800 170 7234 and 0161 308 5800 or by Live Chat on our main Website Monday to Friday and our team will be happy to help or answer with any questions you might have.
You can also find all the various ways to connect with Us at the bottom of this page. Please share this post if you found it helpful.