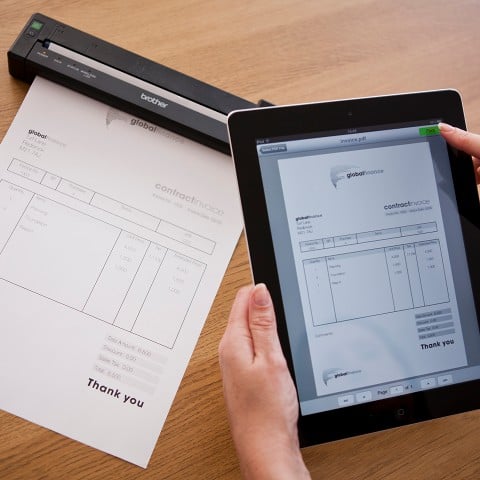 Introducing the very first mobile printing solution for iOS devices – the Brother PJ-673 Thermal Mobile Printer!
Sometimes, even when out on the road, in a field or at a customer location, only a full-page printout will do – and that's why the Brother PJ-673 will prove to be so vital.
Using Brother's free PJ-673 Print app, this sleek, lightweight device allows you to print professional-quality documents straight from your iPhone or iPad.  They can connect to wide variety of other devices, too – so, no matter what your setup is, you know that printing from this battery-powered device will be simple.
Also, as this machine uses thermal print technology, there are no inks, toners or ribbons required, either – no fuss and cost-effective… it's the perfect compact mobile printer.
The PJ-673 will quickly become integral to the productivity of a wide range of professionals, including:
Transport and logistics
Busy delivery drivers and couriers with hectic workloads can print out updated delivery notes and
receipts, helping to keep them on the move and in the right place at the right time.
Commercial services/retail
Customers are impressed when orders can be completed with a professional printed order and receipt at the end of an advisor's visit, helping to improve sales conversions and productivity.
Field service/engineers
Engineers out on the road can use the PJ-673 to print maintenance or service reports for customers they are visiting, saving time, increasing customer confidence and minimising future queries.
Medical/laboratory services
With its ability to print accurate barcodes and prescriptions, the PJ-673 is a valuable tool for healthcare and laboratory workers out in the field.
Public safety/emergency services
The PJ-673 enables law enforcement officers to issue on the spot incident reports, avoiding unnecessary and time-consuming paperwork back in the office.
Check out our video review of the Brother PJ-673 Thermal Mobile Printer below:
Get the Brother PJ-673 Thermal Mobile Printer HERE!