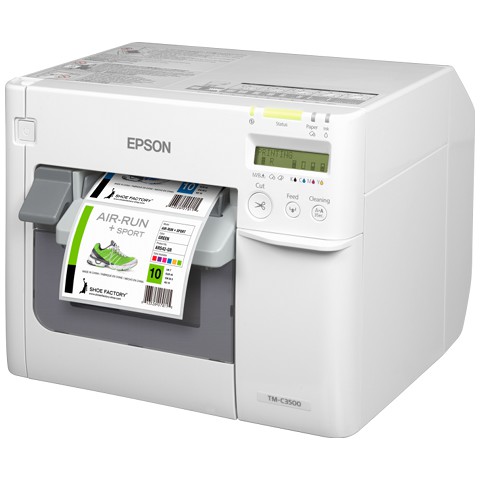 Offering a wide variety of industries a new way of printing colour labels in-house – introducing the Epson TM-C3500 Label Printer.
Using pigment ink, rather than dye-based ink, the Epson TM-C3500 Label Printer can create colourful, long-lasting labels that dry quickly and are smudge, water and fade resistant.
Designed for a range of manufacturing, chemical, healthcare, retail, and event industries, the the Epson TM-C3500 Label Printer allows businesses to create their own labels in-house, avoiding waiting times and the high costs of label manufacturers.
Individual DURABrite Ultra ink cartridges help save money, as only the colour used needs to be replaced. Using this pigment ink ensures the colour on labels, bar codes, tags and tickets last longer, are more durable and are much sharper, compared to those printed using dye-based inks. The LCD screen allows users to easily monitor the printer status and know when each colour needs replacing.
Kelvin Reynolds, of Epson, says: "The Epson TM-C3500 label printer can be used to create a wide variety of labels with different shapes and sizes.
"Featuring fast print speeds of up to 103mm/sec, an integrated auto-cutter and the ability to print on variety of media, the printer is ideal for manufacturers that need an easy-to-use colour label printer for small to medium print runs that is cost-effective."
You can get the Epson TM-C3500 Label Printer HERE!