The Canon Pro 10s was the highest-rated photo printer however, in 2020 they released a replacement. The Canon ImagePROGRAF Pro-300. Rather than refining a great, popular printer line, Canon was bold enough to reinvent. Which gave us a Prosumer printer combining the best features of both printers. But was it worth the change?
Absolutely.
Changes from the Pro-10s and the Pro-300:
3inch LCD screen for direct printing and troubleshooting without the infamous light pulsing
Clog Detection using brand new Canon Lucia Pro Inks
Wider support for Borderless printing
WiFi PictBridge support
New Canon Professional Print And Layout support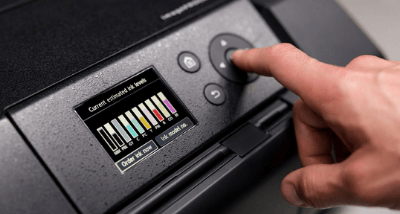 What's New Compared To my PIXMA Pro-10s?
So, it's been announced that the Canon ImagePROGRAF Pro-300 is new and has reinvented the Photo printer. But what is actually new compared to the Canon PIXMA PRO-10s?
Onboard Screen
Well, there's the addition of a 3″ LCD Screen onboard to control the printer. No longer will you have to wait for blinking pulses to define the issue with the printer. The Handy onscreen display will provide updates, and basic features such as quick print, or connectivity options.
New Ink
An updated ink formulation with the new Lucia-Pro pigment-based inks, offering the highest quality print with an estimated 50 years display time, without a glass covering. Canon has even included Matte Black ink, which provides deeper and richer blacks. There is even clog detection built-in for Canon genuine inks, ensuring any issues will be made aware prior to starting a print run.
Wider Borderless Support
Wider support of Borderless sizes, panoramic (Up to a huge 990mm length) and square size prints. An included skew correction will help ensure a straight print on all media, including the longer panoramic prints.
Support from the new Canon Professional Print + Layout software plugin with photoshop. Which provides a perfect screen to print a picture, matching the outcome to what you see on a monitor.
WiFi Pictbridge
New for the Canon Pro-300 is the addition of Wifi Pictbridge, any compatible Camera can now be connected wirelessly for quick prints direct from the Camera source.
New Software
Canon released new software, to assist with the quality of prints. The new Canon Professional Print And Layout software, for high-end photo printing, provides the best results and keeping it simple while doing so.
Canon Pro 300 Review
The Canon Pro 10s had a fantastic run, however the replacement. The Canon Pro-300 is not just a worthy update to one of the highest-rated printers, it's revolutionised the Professional Photo Printing capabilities.
If you're looking for a review, head over to our post, for a great review on the Canon ImagePROGRAF Pro-300.
Need Help or More Information ?
If you need any further help or more information, reach out to us by leaving a comment below or through one of the many ways on our Contact Us page.
Alternatively you can contact us by Phone on 0800 170 7234 and 0161 308 5800 or by Live Chat on our main Website Monday to Friday and our team will be happy to help or answer with any questions you might have.
You can also find all the various ways to connect with Us at the bottom of this page. Please share this post if you found it helpful.