All too often small businesses and self-startups underestimate the importance of a reliable and effective good small office printer. I've heard too many horror stories of small companies actually trying to use their own personal printers to get by.
Avoid doing this whatever you do! You can't underestimate just how important the right small office printer is for your business. Not only for general day to day tasks, but you'll be missing out on plenty of other features without even realising.
Your Needs
There are many things to take into consideration when picking the printer you need but try to look at the most important things –
– How many pages do you expect to print every month or year?
– Do you just need a printer? Or do you need a multifunction device that also allows for copying, scanning and faxing?
– Do you need to print in colour or just black and white? (mono)
Choices, Choices, Choices
Lower cost and general entry level printers come with a relatively small amount of ink or toner resulting in a high print cost. However, if your print volume is extremely low then there's no reason why you can't opt for one of these as your need to change ink or toner will be infrequent.
Both laser and inkjet machines will cover the functions you need but definitely opt for a laser if you're only going to be printing in black and white. There's a wide range of standard and multifunction mono printers but HP's range of LaserJets could be just what you're looking for. Especially if you're looking to print in slightly higher volumes with laser printers typically able to produce more pages per minute than inkjets.
If you still want to opt for a mono inkjet printer, then look no further than the Epson WorkForce Pro WF-M5690DWF. It has a range of great features, will deliver the quality you want and its capability to print up 34 pages per minute makes the speed impressive.
Inkjets will also be more beneficial should wish to produce a higher standard of print with some colour. This is particularly relevant when using photo paper, which will help to avoid your prints becoming washed out. Yes, it'll take longer for the prints to arrive and will still cost you because of the ink being used and the fewer pages it's being used on but the quality is definitely there.
Complex Jobs
If you're looking to execute slightly more complex jobs involving multiple functions, sizes and colours, then a colour multifunction printer could be ideal. Being able to execute a range of different functions in different colours could really elevate your business and the professional materials you use. The Canon Maxify range would be a great choice as they offer a great range of features, can handle multiple tasks and have good digital connectivity. Plus, they look great!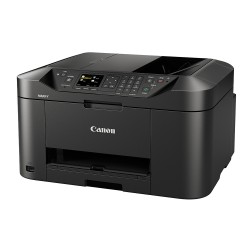 Ultimately though you need to really break down exactly what you need and ensure you don't go wandering down the wrong path. We have an excellent printer search function on the homepage of our site that will enable you to pick and choose the exact features you need. This will make your decision a lot easier!