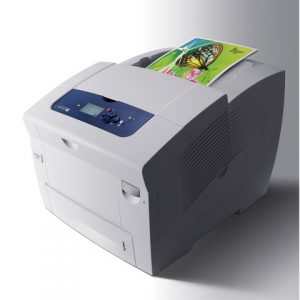 When your new printer arrives, it's always tempting to get it out of the box and working straight away.  However, it's important that you unbox your new device safely – and that's why we've put together this video to show you how to do this with the Xerox ColorQube 8580 Solid Ink Printer.
The Xerox ColorQube 8570 Solid Ink Printer is a seriously impressive device that's able to produce consistently outstanding prints on a wide range of media.  However, with the introduction of the Xerox ColorQube 8580 Solid Ink Printer, we have taken a look at the key differences between the two.
Overall, both Xerox Solid Ink Printers are strikingly similar, not only in looks, but in terms of their features – though, there are some noticeable differences, which we have highlighted.
Similarities
As mentioned, with both machines using Xerox Solid Ink, the print quality is exceptional, with vivid colours and sharp, accurate text produced on a wide range of media, from plain paper to labels, envelopes, card stock, business cards and glossy paper.
As ever, when it comes to Xerox Solid Ink, your printer running costs will be some of the best available, too – there is a potential to save up to 70% should you print a lot of colour pages, for example.   Plus, when you add key cost-effective features such as automatic two-sided printing, the savings will continue even further still.
It's also worth keeping in mind that the Xerox ColorQube 8580 uses the same Solid Ink sticks as the Xerox ColorQube 8570, so, you can use your existing inks if you decide to upgrade.
Differences
The key differences between the two Xerox printers are in the performance, with the Xerox ColorQube 8580 coming with double the memory – 1 GB – and faster print speeds of 51 pages per minute, as opposed to 40 pages per minute.  Now, while this may not seem like much, it will certainly make a huge difference when printing large jobs.
Also, the ColorQube 8580 includes Mopria certification; making printing from mobiles and tablets really simple – giving you real flexibility in a busy office environment.
Check out our Xerox ColorQube 8580 vs. Xerox ColorQube 8570 Comparison video below:
Need Help or More Information ?
If you need any further help or more information, reach out to us by leaving a comment below or through one of the many ways on our Contact Us page.
Alternatively you can contact us by Phone on 0800 170 7234 and 0161 308 5800 or by Live Chat on our main Website Monday to Friday and our team will be happy to help or answer with any questions you might have.
You can also find all the various ways to connect with Us at the bottom of this page. Please share this post if you found it helpful.