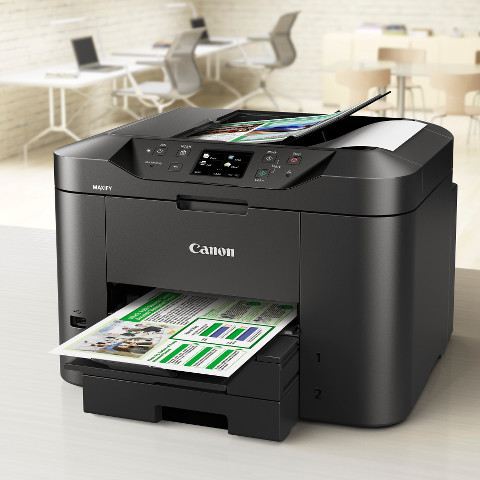 Are you looking for an all-in-one device for your home office?  If so, then the Canon  MAXIFY MB2350 Colour Inkjet Multifunction Printer, with it's impressive performance, great features and low costs, is the go-to choice.
If you want to add professionalism to your print setup while keeping costs to a minimum, then the Canon MAXIFY MB2350 is ideal, as it delivers high-quality prints using inkjet technology.
Plus, with Canon's XL ink cartridges, you're guaranteed a low cost per print, which is vitally important for home offices.
Able to print, copy, scan and fax, you won't struggle to get work done with the Canon MAXIFY MB2350 – your productivity will definitely be given a significant boost.
Not only that, but with impressive print speeds – and a first page out in just seven seconds – you won't be waiting around for print jobs, be they large or small.
The Canon MAXIFY MB2350 is packed with fantastic features, too, such as the ability to print from and scan to mobile devices and cloud services, which adds plenty of flexibility to your home office.  Plus, with Wi-Fi connectivity, anyone can use the Canon MAXIFY MB2350 – scan to the PC in the office and print from the tablet upstairs; it's all possible.
All of these great features are really simple to use, thanks to the 7.5" colour touch screen, which offers simple navigation for any user.
Overall, the Canon MAXIFY MB2350 is a highly-recommended colour multifunction printer for the home.
Check out our review of the Canon MAXIFY MB2350 Colour Inkjet Multifunction Printer below: