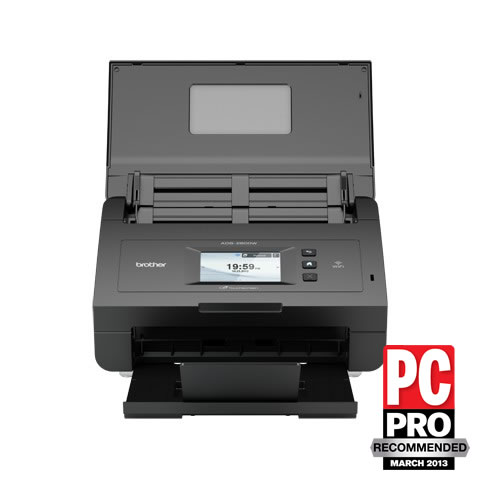 Are you considering a desktop scanner as part of your office setup?  If so, we have put together a comprehensive review of the Brother ADS-2600W Desktop Scanner – could this device be the perfect choice?
The highly-rated Brother ADS-2600W comes with integrated wired and wireless networks for busy, fast-paced offices, allowing users to digitise, share and archive documents securely.
The Brother ADS-2600W is simple to navigate, with an easy-to-use LCD touchscreen that allows you to select your options.
With the Brother ADS-2600W, you can also scan to USB, e-mail, FTP, searchable PDF and various cloud services, such as Google Docs, Evernote and Dropbox.  Those capabilities, along with a 50-sheet ADF, which allows you to scan multiple documents one after another, increases productivity within any workgroup – making your office run much more smoothly.
We do rate this machine, as you'll see in our review, but we're not the only ones – PC Pro have also given the Brother ADS-2600W a recommendation.  The respected publication described the Brother scanner as a device that "beats all comers", with "a wide range of scanning functions" and "great cloud support".
Check out our Brother ADS-2600W review below: