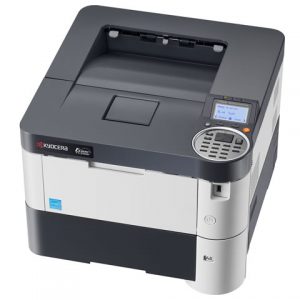 Are you looking to cut down on costs when it comes to your office print setup?  If so, then the Kyocera FS-2100DN Mono Laser Printer could be the ideal starting point for any business wanting cheaper printing and significantly less environmental impact.
We have put together a short video review of the Kyocera FS-2100DN, highlighting just why it is such a highly-rated machine.
The Kyocera FS-2100DN, which came in at number one in our Top 5 Kyocera Printers, is a mono laser device that adds reliability and impressive quality to any print setup – you get consistent, accurate prints with each page.
Not only that, but the Kyocera FS-2100DN delivers impressively fast prints, too, with print speeds of 40 pages per minute making light work of larger jobs.
Also, as the Kyocera FS-2100DN comes with long-life components, automatic two-sided printing and huge 12,500-page replacement toners, you can get some of the cheapest print costs available.  There's nothing better than exceptionally low print costs, particularly when it comes to saving your business money!
Don't just take our word for it, though, as our customers have given the Kyocera FS-2100DN an overall rating of five stars out of five!
"Top marks! We needed a fast, economical and reliable printer that could handle direct pdf printing with a large paper tray… Very happy customer!" – Acorn Web Shops Ltd, Banbury
"Great value for money. Very tidy for a small/ home office. Easy to use, small footprint, quiet & fast on all functions." – Adam, Southampton
Check out our review of the Kyocera FS-2100DN Mono Laser Printer below:
Need Help or More Information ?
If you need any further help or more information, reach out to us by leaving a comment below or through one of the many ways on our Contact Us page.
Alternatively you can contact us by Phone on 0800 170 7234 and 0161 308 5800 or by Live Chat on our main Website Monday to Friday and our team will be happy to help or answer with any questions you might have.
You can also find all the various ways to connect with Us at the bottom of this page. Please share this post if you found it helpful.