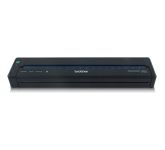 Mobile printers are a productive addition to many businesses – particularly those that are on the road, such as sales and delivery staff, as well as emergency service officials.
Giving workers the ability to print on-the-go allows professionalism to shine through which, in turn, inspires customer confidence.  With this in mind, you can understand why so many companies are opting for a mobile printing solution.
One mobile printer that stands out is Brother's PocketJet PJ-622 – and we have decided to put this compact, lightweight machine to the Printerbase test…
You can get the Brother PJ-622 HERE!