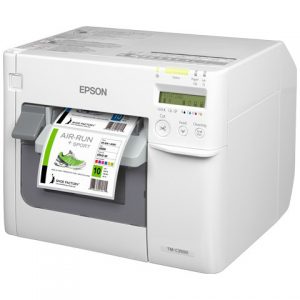 The Epson TM-C3500 Label Printer is a genuinely impressive desktop device that is sure to be a hit in the office or even as a key part of small independent businesses. As it is so highly rated, we have decided to put together a video review of the Epson TM-C3500, highlighting the features of the device and how they can benefit you. The Epson TM-C3500 is a colour label printer that's specifically designed for home and business use, giving users the ability to print unique, colourful labels on a wide range of media. The Epson TM-C3500 combines impressive print speeds and an outstanding colour print quality to offer a device that can save your business time and money, you can simply bring all label production in-house and on-demand.
Benefits
One of the main benefits of using the Epson TM-C3500 is its flexibility, meaning that its equally adept printing packaging logos in a warehouse, ID cards in an office, chemical labels in a laboratory or even labelling homemade jams and soaps. Overall, the Epson TM-C3500 is a durable, easy-to-use device that will benefit a wide range of users in terms of saving time, cutting costs and enhancing creativity.
In The Box
If you want to know what comes with the Epson TM-C3500, check out our unboxing video here. Watch our Epson TM-C3500 review below:
Need Help or More Information ?
If you need any further help or more information, reach out to us by leaving a comment below or through one of the many ways on our Contact Us page. Alternatively you can contact us by Phone on 0800 170 7234 and 0161 308 5800 or by Live Chat on our main Website Monday to Friday and our team will be happy to help or answer with any questions you might have. You can also find all the various ways to connect with Us at the bottom of this page. Please share this post if you found it helpful.