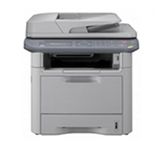 If your business is looking to significantly reduce its environmental impact, then Samsung's SCX–4833FD Laser Multifunction Printer is definitely an option that you should consider.
Coming with high ECO credentials, this machine can replace your scanner, fax machine and existing printer – making your office much more environmentally–friendly, as well as cheaper to run!
Controlled by an easy-to-use 4.3 inch screen, it is a productive performer, too – producing sharp, crisp prints at impressive speeds of 31 pages per minute.
It is an economical printer to run also, which appeals to any office trying to cut down their overall print costs.  With a special Toner Saver Mode and high-yield inks, the SCX–4833FD offers a lower cost per page printed.
There's currently £54 ex vat off the normal price, plus you can also claim FREE five-year warranty from Samsung for peace of mind printing.
Get the Samsung SCX–4833FD HERE!