Photo prints to Dye for…or are Pigment inks the answer?
Taking the perfect photo is the first part of the equation when it comes to printing your images, but is it better to produce your images using a dye or pigment based ink?
What's the difference between the two?
Dye inks consist of a soluble colourant, or dye, dissolved in liquid, while pigment inks consist of microscopic specks of solid colours which are suspended in liquid. A good analogy for the two would be salt vs sand:
If you put salt into water and mix it, it will dissolve and form part of the liquid – like a dye ink.
If you put sand into water and mix it, the sand won't dissolve and will eventually settle – like a pigment ink.
So, why dye?
Dye inks are cheaper to produce than pigment ink so you'll find that they are the most common inks used in entry level and mid-range photo printers. You'll get great colour vibrancy as dye inks tend to offer brighter and more vivid colours than pigment inks – especially effective for colourful portraiture or landscape images. Dye also works with a range of photo papers with the best results coming on high gloss media – ideal for album photography.
What to watch
Dye inks can take time to dry and can smudge if handled and they are not as resistant to fading as pigment when put on display.
Why pick pigment?
Pigment ink is found in top-end photo printers, capable of high quality output onto a variety of media. It also has durable output as pigment inks don't smudge and are lightfast- ideal for photos that will be on display. Pigment ink also gives consistent results with all finishes of media including gloss, matte, lustre or even fine art canvas. Also, having multiple black inks offer the best results for B&W photography.
What to watch
Can be less vibrant than Dye ink output and generally available only in the higher end and more expensive devices.
So, which do I choose?
Your choice is determined by both budget and intended usage.
Dye Ink Printers
Dye ink printers can produce some of the best photo quality prints and have a lower initial outlay cost than the pigment range of machines. If you print photos mainly for your own use or for sharing with friends and family, a lower cost A4 dye ink machine would be a good choice. If your photographs are colourful and vibrant, then a combination of dye ink and gloss paper can really bring out the best of your images.
View Dye Based Printers
A3+ Colour Inkjet Printer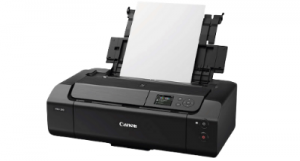 Pigment Ink Printers
Whether you are a professional photographer or a serious amateur, you will want a device that can produce the highest quality but also give your prints the best longevity possible by investing in a professional grade photo printer. With only one exception, our range of professional photo printers use pigment ink – their multiple colour system means that you get comparable quality to dye ink but with the added benefit of longer lasting prints that can be put on display and offer better shade gradations for your black and white photography.
View Pigment Based Printers
A3+ Colour Inkjet Printer