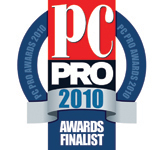 Printerbase have been nominted for Best Online Retailer in the PC Pro 2010 Awards, sharing the category with 11 other retailers with names such as Amazon, John Lewis, More Computers and Scan.
The great thing about the PC Pro Awards is that they are reader-voted so it is just more evidance of how highly we are regarding with our customers and our commitment to provide great help and service.
The winners of all the PC Pro Awards will be announced on Thursday 30th September 2010.