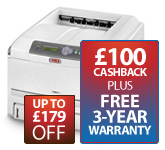 Today OKI Printing Solutions have launched the OKI C801 and C821 range of A3 colour printers, which compliment OKI's existing C810 and C830 series printers.
The C801 and C821 are designed to bridge the gap between A4 and A3, where customers predominantly print in A4 but they need the flexibility to print up to A3 size. They are both compact in design and feature OKI's innovative LED technology, straight paper path and excellent media handling.
The C801 and C821 are available in standard network versions or in a duplex network version, the C801 is a host based printing system whereas the C821 has the more powerful PCL and PostScript 3 emulations.
The new machines give a real choice for the A3 market, go for the C801 or C821 for a lower purchase price but higher running costs or choose the C810 or C830 for a higher purchase price but lower running costs.
OKI C801 Printer
OKI C821 Printer