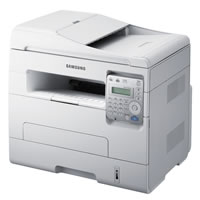 The problem for small businesses when it comes to their printing setup is finding the right balance between a high-quality performance and keeping the costs down.
Larger companies may be able to afford the latest models and the increased costs that come with them to deliver a superior performance, though smaller outfits have to take the printer's cost-effectiveness into consideration, too.
Here at Printerbase, we understand this – which is why we have decided to recommend a mono multifunction printer that will give you fantastic prints and performance, all while keeping your costs to a minimum.
The Samsung SCX-4729FW offers print, copy, scan and fax capabilities – all in one compact device, with fantastic speeds of 28 pages per minute.
Network and Wi-Fi-ready, with a whole host of advanced print features, the SCX-4729FW would be a fantastic addition to any small office – particularly when it come to the cost and energy-saving settings.
Samsung's One-Touch Eco Button can automatically adjust the printer settings to make them the most economical – allowing you to save up to 75% on paper usage, 50% on energy and 89% on carbon emissions.
This kind of quality, paired with the savings you can make, could prove to be vital when it comes to your businesses running costs.
You can get the Samsung SCX-4729FW HERE!