If you use a lot of labels and tapes you might be looking for a way to reduce costs while retaining quality.
Switching to compatible labels and tapes gives you that option, however it's important to select your supplier wisely.
At Printerbase we stock compatible tapes, and as with all our non-branded products we make it our mission to try and test everything, so we only stock the best.
The pros and cons of compatible labels
Compatible labels and tapes mean you can print more for less money than if you used branded options. If your business is on a budget this is an extremely good option for you.
However, it is imperative that you choose a supplier of high-grade tapes if you'd like your labels to last. All too often we hear from customers that the tapes they've bought elsewhere have degraded, ripped or discoloured. In the worst-case scenarios important label tapes lose their adhesiveness and fall off, leaving you with unnamed items files, folders, cables and more.
The problem with cheaper compatibles often isn't immediately apparent to the user. In fact, for the first few days or weeks you might not notice any difference between the cheap compatible and the quality one. It is only after a period you'll notice the change.
Note the image below – this is the sort of thing you can expect from a low-quality compatible label tape. After a short period of time, the top layer of protective film comes away from the tape, exposing the interior print. This label will quickly deteriorate.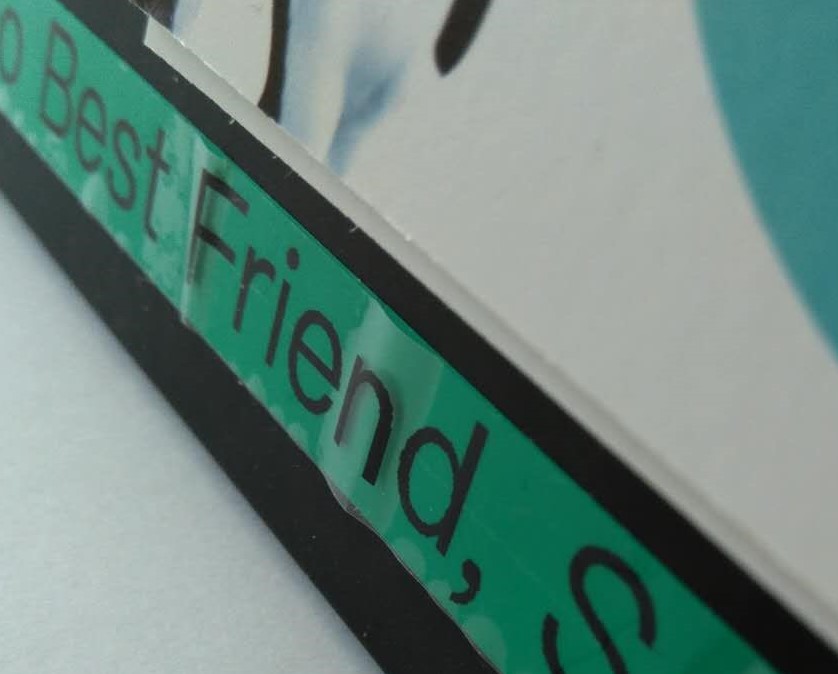 Premium compatible labels and tapes
At Printerbase we provide compatible labels for our customers because we want to make them as affordable as possible. That being said, we're not willing to relinquish quality for the sake of cost. We still need our affordable labelling tape solutions to perform. No flaky peeling labels here.
We source our labels from a supplier we know offers quality. We've tested our labels and they're extremely effective. Plus, hundreds of our customers have tested them too.
"This compatible tape is brilliant. It's cheap and high quality – and Printerbase delivered it within 24 hours of me placing the order. Genuinely can't fault the tape or the service."

J Howarth
Printerbase customer
The structure of premium compatible label tapes
The label tapes we supply are manufactured with quality and longevity in mind. For example, we stock compatible TZe label tapes for use with the Brother P-Touch label printer. This label boasts a 7-layer structure, including a protective film, thermal transfer ribbons, adhesive film, base and colour film, adhesive film and an isolation layer – see image below.

Simply put, they're extremely well made and much more durable than other compatibles on the market.
You really can rely on the label tapes we stock to do the job they're designed to do. In fact, you'll find few others on the market that boast the same properties. These compatible TZe tapes are:
– Anti-corrosion
– Tolerant of high and low temperatures
– Anti-abrasion
– Strongly adhesive
– Fade-proof
– Waterproof
– Available in a variety of colours
Compatible label tape types
At Printerbase, in addition to our standard tapes, we stock label tapes for a range of different compatible tapes, including:
– Fabric tape – printable iron-on tape made from cloth that enables you to easily label uniforms and workwear.
– Flexi tape – available in a variety of colours, flexi tapes, ideal for industrial, commercial and domestic applications and specially made to wrap securely around cables and wires.
– Heat shrink tubing – printable tubes shrunk to fit around cables using a heat gun, for long-lasting identification.
Finally, for more information on the quality and composition of our label tapes, or advice on which tapes would best meet your needs, please contact our customer service team on 0800 170 7234.
Thanks for reading,
Chris
Printerbase