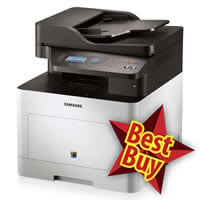 Are you looking for a powerful Multifunction printer with fast printing ability and impressive quality? Then look no further than Printerbase's deal on the Samsung CLX-6260ND All-in-one Printer!
Get your order in with Printerbase for the CLX-6260ND before the 31st March and you can get £80 cashback and FREE five-year on-site warranty.
All you have to do is make your claim to Samsung within 21 days of purchase and you get these fantastic benefits!
Not only that, but we've also knocked £16 off the original price, too!
Ideal for any medium-sized office needing to print, copy and scan, the CLX-6260ND features Samsung's unique 'ReCP Technology', which improves the overall quality of your colour printing and automatically sharpens graphics and text, too. Polymerised toner is also included, giving your prints a glossy finish and preventing them from fading over time.
With automatic double-sided printing and up to 24-page per minute print and copy speed, this machine would be the perfect addition – and now is the time to buy!
Get the Samsung CLX-6260ND Multifunction Printer HERE!