Multifunction devices are great and deliver a variety of functions at decent quality. However, there are many reasons why you may now require a dedicated document scanner rather than relying on your multifunction device.
In today's multi-connected world, businesses are finding that to become more efficient and productive they need to embrace the digital revolution and merge their paper based records with their digitally born files. Being digital allows for greater collaboration not just between staff members who may be in the office, in the field or home-based but also to clients who may be demanding faster decision making and access to their files, reports or records. Fujitsu scanners allow for scanned documents to be instantly shared across the cloud or a network and viewed across a variety of platforms such as tablets, phones and notebooks.
Customers are starting to realise that there's a greater need advantage for dedicated scanners, which allow for archiving and processing of all paperwork within the building.
Speed and Paper Handling
Quickly and intuitively capture double-sided documents easily with Fujitsu's scanner range. Fujitsu scanners have a high daily throughput and can cope with mixed batches without the need for pre-sorting or adjusting settings. They come with built-in hardware feeding functions to reduce the risk of double feeds or intentional double feeds such as attached post-it notes, plus the scanners will automatically crop to the correct size scanned, remove any scan skew, auto rotate and remove blank pages, dramatically increasing your efficiency and lowering your costs.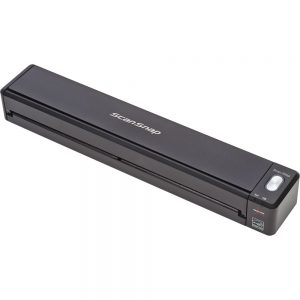 Location and Efficiency
There have been numerous studies about the wasted time in a typical week that can be spent walking to and from a multi-function device such as a photocopier and then the scanning function itself, transmission back to a host PC and post-scan processing. Fujitsu's ScanSnap range starts at £150 RRP with a small footprint so can easily become a mainstay on numerous desks within an organisation. ScanSnap is an out of the box solution, USB plug and play and no training required. Scanning at a desk and the automated functionality of Fujitsu scanners means other desktop tasks can be done in conjunction with the scanning process and save you lots of time.
Image quality and processing – A scanner can capture the actual content and information of a document and not just the image. Rather than creating a jpg, Fujitsu scanners can create a PDF which can be searchable thereby making information instantly retrievable at a later date. Bundled OCR software with the ScanSnap range also means documents can be scanned and instantly converted to editable Word, Excel or PowerPoint files. Additionally, receipts and business cards can be scanned and information exported to a database or expense monitor system. Features such as automatic colour detection can help ensure that file size is kept to a minimum, while bundled PaperStream Capture software with Fujitsu's 'fi' scanners cleans up the image and assisted scan can help with choosing the best scan for your workflow.