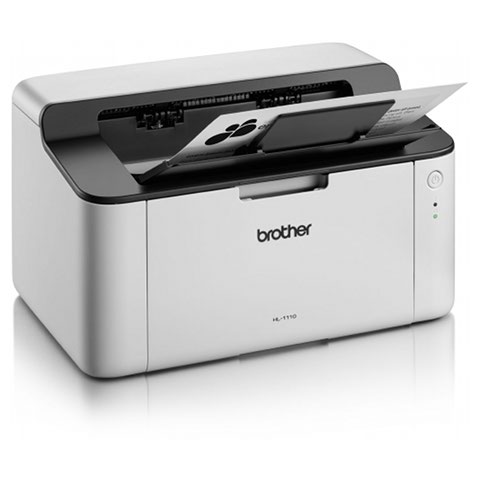 A reliable, cost-effective mono laser printer can be a life-saver for a small office and, if you need to stay productive, one of the best machines to go for is the Brother HL-1100 Mono Laser Printer!
The Brother HL-1110 Mono Laser Printer is an impressive performer that would be the ideal addition to any small, but demanding, office.  However, as it's such a fantastic price – only £57.79 inc. vat – there's no reason why you couldn't have it as part of your home office setup.  So, why not make the upgrade from your inkjet printer?
For what is, essentially, an entry-level laser printer, the Brother HL-1110 packs a surprising amount of features that are sure to improve and add to your small business.  For example, the Brother HL-1110 Mono Laser Printer offers you booklet, poster and tw0-sided printing at ample speeds, so although it's a compact, space-saving printer, you can bring some print jobs in-house.
The Brother HL-1110 Mono Laser Printer delivers an exceptionally cost-effective overall performance, too – with its toner save mode, along with low-cost toner and consumables.
PC Advisor also rate the Brother HL-1110 Mono Laser Printer highly, so much so that they have included it as one of their '8 best budget printers 2014/2015'.
The technology experts said: "You aren't going to be using the Brother for massive quantities of printing. Neither is it overladen with features. But for the occasional text print job, it'll prove a very willing accomplice.
"You're getting a very reliable model for an extremely low price point, and that makes it a highly commendable no-frills choice."
Find out more about the Brother HL-1110 Mono Laser Printer HERE!