OKI ES9541 Graphic Arts Printer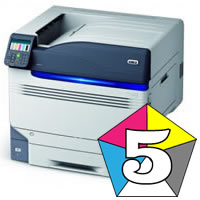 OKI ES9541 SRA3 Graphic Arts Printer
The future of digital printing is... BRILLIANT! Pioneering technology for creative industries.
The ES9541 offers digital print service providers and reprographics studios a unique opportunity to print solid or spot white and clear gloss in house, on demand. You can now offer more to your customers whilst giving your business a competitive edge and a new revenue stream, without the need for a huge investment. The ES9541 changes the possibilities available to those producing short print run materials including stationery, brochures, packaging prototypes, point of sale and window graphics. And, with a low total cost of ownership, you can increase your margins whilst growing your business through offering new services.

5 colour printing and spot gloss
A true breakthrough in printing technology for the creative and graphics industries, with the ES9541 you can now have the option of printing white or a clear gloss finish – a process which previously could only be achieved through the use of expensive digital or lithographic printing equipment.

Print on heavy weight media
Print on a wide variety of media with weights starting from 52 gsm to 360 gsm, and sizes from A6 to oversized A3 and SRA3, plus 328 x 1200mm banners, giving you complete printing felxibility.

EFI Fiery XF 5.0 compatibile
Fully compatible with an optional EFI Fiery XF 5.0 server which enables advanced colour management, including spot and process colours, optimising colour depth and print quality.
If you'd like more information about our managed print service, please contact 0800 170 7234 and ask for Chris or Simon.