Xerox was recently announced as the official supplier of print services to the Glasgow 2018 European Championships. The multi-sport event will take place throughout the first couple of weeks of August 2018 and Xerox will be providing 170 ConnectKey multifunctional and desktop printers, which will be used to print and scan a variety of documents including competition details, news, results and more.
The services will be provided using the Xerox Print Management and Mobility Service, which enables easy control over a fleet of printers as well as security. Xerox will also be on-site to provide technical support.
Glasgow 2018 Championships Director Colin Hartley said: "The Glasgow 2018 European Championships is a world first event which requires all of our staff and offices to operate to the very highest standards. We look forward to working with Xerox and all of our sponsors to deliver a sporting and cultural event which will make Scotland proud."
Andrew Morrison, managing director, Xerox U.K. and Ireland went on to say: "The Glasgow 2018 event will be spread out over a number of different competition and hospitality locations, making it vital that the right documents get to the right people at the right time. We're looking forward to contributing to the smooth running and reporting of Glasgow 2018 and are confident that our easy to use, secure solutions will ensure a seamless printing and scanning experience for all staff."
It's yet another big win for Xerox who have previous experience providing similar services with the London 2012 Olympic Games being just one of the high-profile events supported by Xerox. Find out more about the Glasgow 2018 European Championships.
ConnectKey Enabled Printers
Xerox VersaLink C400N
A4 Colour Laser Printer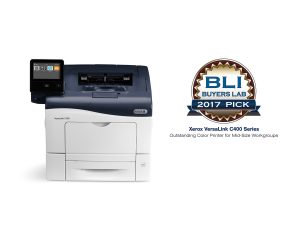 Xerox VersaLink B405DN
A4 Mono Multifunction Laser Printer