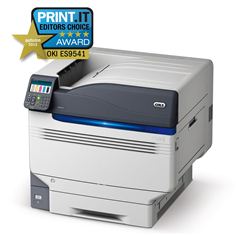 OKI Europe has been awarded the prestigious Print.IT Editor's Choice Autumn 2013 Award for the ES9541, the industry's first digital LED five-colour A3 printer, recently showcased at VISCOM Europe.
The award recognises that the ES9541 breaks new ground as the graphic arts industry's first mass market five colour printer. In addition to the standard process colours, the ES9541 offers an additional spot colour in clear or white gloss. Previously, this capability was only available on expensive digital or lithographic printing equipment, a fact highlighted by the judges.
The Print.IT award also points to the business opportunities this OKI printer offers for creative businesses and copy shops in producing a wider variety of materials on demand and in short runs, more cost-effectively than ever before. The white toner option is ideal for printing on colour paper, transparent film, T-shirt transfers and promotional merchandise, while the clear gloss enables the production of high quality, impactful catalogues, manuals, photobooks and marketing documents.
The Print.IT Editor's Choice award is the third independent accolade for OKI Europe's revolutionary new printer designed for graphic arts and other creative businesses. The five colour printer was recently awarded the VISCOM 'Best of 2013' Award and the 2013 Good Design Award, Japan's highest design accolade.
"OKI's revolutionary new five colour printer reflects our strategy of offering innovative print solutions for professional and vertical markets, such as graphic arts," confirmed Terry Kawshima, managing director, OKI Europe, "The ES9541, offers creative businesses the opportunity to access valuable new revenue streams."