Printerbase have been named 'May Supporter of the Month' by local charity, Tameside4Good, after donating a selection of printers to the organisation.
We wanted to do our bit for Tameside4Good, and to show our support, we've decided to donate some machines that the charity could then distribute amongst communities in the area.
Tameside4Good were overwhelmed by the generosity of Printerbase. So much so we were named their May Supporter of the Month!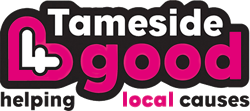 6th Ashton Scout Group, Ashton Women's Group and Mossley Community Centre were among some of the worthy causes to receive a machine.
Tameside4Good have helped a number of community groups in Tameside, with grants available to help these communities to develop and succeed.
They aim to encourage helping others through events and volunteering.
Printerbase hope to maintain a strong relationship with Tameside4Good, intent on helping the charity in as many ways possible in the future.
If you wish to find out more about Tameside4Good, or you simply want to get in contact, please head to www.tameside4good.org now, or call 0161 339 2345.