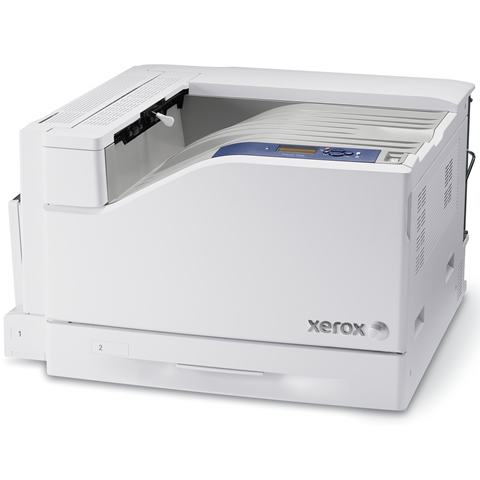 Here at Printerbase, we love to share fantastic deals on printers and consumables with our customers – and we have yet another one that is sure to impress…
This time, we have a top-quality A3 printer that is reliable, powerful and professional, making it the ideal addition to any office looking for that little bit extra from their office's print setup.
The Xerox Phaser 7500DN LED A3 Printer is a professional-level colour A3 machine that is powerful enough to supply quality prints for the whole office.
Robust and network-ready, the 7500DN will perfectly take up the role as the go-to printer for any busy workgroup.
Impressive speeds of 35 pages per minute will increase productivity – making short work of long print runs and other complex jobs.  It's ready to handle anything you throw at it!It's ideal no matter what industry you're in, either – from marketing, architecture and right through to sales – with the ability to print on any media up to 280 gsm and 1200 x 320mm banner sheets.
The quality of print is something you're able to rely on, too – there's a consistency, with true Adobe PS3 and Pantone approved colour tables.  There's also expert features at your fingertips, with black trapping, pre-defined colour profiles and simplified print management tools – there's plenty of power to do more than ever before.
Don't just take our word for it, either – Colin, from London, said this about his Xerox Phaser 7500DN: "… great quality prints… simple to set up with our network, all macs, and to date has been reliable with minimal jams."
Now is the time to get hold on this fantastic machine, as there's OVER £270 OFF, £500 CASHBACK and a FREE 500-SHEET PAPER TRAY!  A truly incredible deal that you cannot afford to miss out on!
Check out our expert video review of this Xerox printer below:
You can get the Xerox Phaser 7500DN Colour LED A3 Printer HERE!