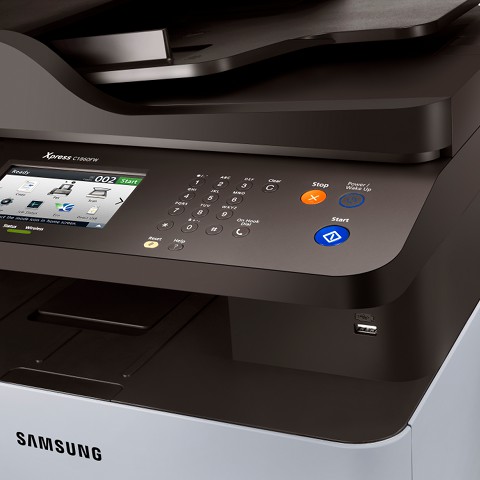 Samsung Printers and Multifunction Printers (MFPs) have won seven awards for outstanding achievement at the Buyers Laboratory (BLI) 2014 Summer Pick Awards.​
The Samsung C1810, Samsung C1860, Samsung M2835, Samsung M2885, Samsung CLX-8640 and the Samsung CLX-8650 were all recognised for their superior performance in the printing category.
"Samsung's Printing solutions are designed to drive productivity and efficiency so we are delighted that BLI has recognized our commitment to creating innovative products that meet changing business needs" said David SW Song, Senior Vice President of Strategic Marketing and Sales, Printing Solutions at Samsung Electronics.
In the hardware sector, five Samsung printers and MFPs were recognised for outstanding achievement. This includes the Xpress C1810/1860 series released earlier this year, which received the award for the outstanding personal colour printer and MFP. With its full-colour touchscreen, the device is able to simplify any printing task such as scanning, copying or downloading.
Tony Maceri, BLI Senior Test Technician praised this model for delivering a complete pack of leading-edge technologies at an affordable price. He said, "The full-colour touchscreen, still rare at this level, makes programming scan or copy jobs simple, while Samsung's Mobile Print App and the integrated NFC technology let people print or scan with a simple tap of their NFC-enabled smartphone on the MFP."
The Xpress M2835/2885 series also received awards for the outstanding personal monochrome printer and MFP respectively, demonstrating the simplicity of the mobile printing technology in Samsung Printers.
"Mobile printing is an emerging trend, but printing from a smartphone or tablet can be challenging," said BLI Senior Analyst of Printers and A4 MFP, Marlene Orr. "With the Xpress M2835/2885's integrated NFC technology, mobile printing couldn't be easier: I can just tap my NFC-enabled smartphone on the printer and MFP, the Samsung Mobile Print App automatically downloads and my phone connects to the printer and MFP so I can print my job right away."
The enterprise-ready A4 colour laser MFP, MultiXpress CLX-8650 received recognition as an outstanding A4 colour MFP for large workgroups, due to its reliability, eco-friendly features and high performance.
The A4 colour laser MFPs, MultiXpress CLX-8640/8650 series received an award for outstanding achievement in energy efficiency, strengthening its reputation as the benchmark in energy-saving technology. Thanks to Samsung Printers' advanced eco-friendly technology, these models consume less energy than standard printers and have received many five-star ratings in environmental categories.
"The Samsung MultiXpress CLX-8640/8650 series provide users with an energy-efficient device that can help any organization reduce their overall environmental impact compared with the competing devices as tested," said Lisa Reider, BLI's Senior Product Editor for Environmental. "Thanks to its fast warm-up times and additional energy- and waste-saving features, the CLX-8640/8650 series provide many ways to help end users go green."