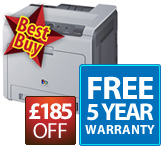 Thanks to a great deal with Samsung we've managed to reduce the price of the Samsung CLP-620ND colour laser printer to only £199.00ex VAT.
If the price alone wasn't enough to tempt you, you can claim a free 5 year warranty or free black toner from Samsung as well.
Over the last few months the Samsung CLP-620ND has been one of our best selling colour laser printers and our customers really like it, giving it a 4.5 star rating out of 5, with comments such as "superb print quality", "Great printer" and "excellent value for money".
So why not get one yourself and see what are customers are raving about.