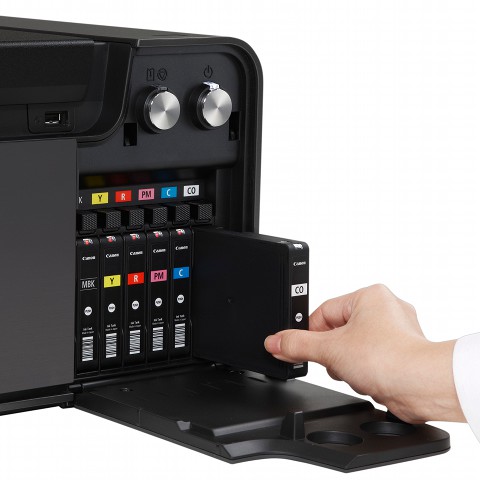 Professional inkjet printers have become increasingly popular of late, with many businesses recognising the difference the quality of print makes – particularly in creative industries.
There's plenty to consider when choosing professional inkjet printers for your office, so much so that it can become quite confusing.  So, to make the task less arduous, we are here to help!  We are going to take a look at some of the features you will need to make a decision on, which will guide you towards the perfect professional inkjet printer for your specific needs.
First of all, we'll take a look at ink cartridges, as professional inkjet printers come with a different number of ink cartridges – so, how many is best?
Generally, the more ink cartridges in your inkjet printer, the better the colour accuracy of your prints – it's as simple as that.  For example, the Canon PIXMA Pro 1 Inkjet Printer has a 12-ink system, which delivers an exceptional quality of print, while inkjet printers with three or four inks are likely to produce prints with less subtlety when it comes to colour reproduction.
The gap in quality is noticeable – perhaps even more so – when it comes to printing in mono, too.  Inkjet printers with three or fours inks can often add a coloured tint to the gradient on black and white photos.  That kind of thing isn't a problem with printers, such as the Epson Stylus Photo R3000 Inkjet Printer, which has four separate black inks as part of its nine-ink system – Photo Black, Matte Black, Light Black and Light Light Black – which delivers a smooth, accurate gradient on monochrome photos.
Another benefit with the multiple ink systems on professional inkjet printer is that they can all be replaced individually – so, should you use one colour more than another, there's no need to replace all of your inks once it runs out.
Overall, the amount of inks for your professional inkjet printer depends entirely on what you'll be using it for.  If you're a photographer, designer or within a creative industry, it would make sense to go for device with plenty of ink cartridges to give you the best quality possible.