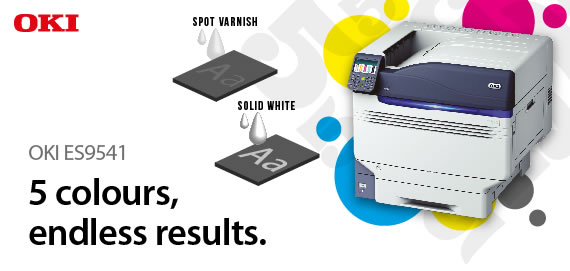 Printerbase is holding a launch event from the 10th to the 14th February to showcase the OKI ES9541 and ES9431 printers that are ideal for the graphic arts industry – and you are invited!
The event, which will be at the Village Hotel in Bury, will include a demonstration of the OKI printers, with our print experts ready to highlight the capabilities of the OKI ES9541 and ES9431.
If you'd like to come to the event to see the OKI ES9541 and ES9431 printers in action, then all you have to do is RSVP to the event:
E-mail: oki@printerbase.co.uk
Call: Nick Simpson on 0161 308 5800
The OKI ES9541 A3 Printer is a first for the graphic and creative industries; an affordable and unique high definition printer that enables you to not only print the full range of process colours, but also offers an additional fifth spot colour, white or clear gloss.
Combining flexible media handling, impressive print speeds and now five colours, you can take your printing capabilities onto the next level with the OKI ES9541 – whether you're producing banners, point-of-sale, leaflets, promotional merchandise, t-shirt transfers vinyl graphics, stationery or brochures.
The OKI ES9431 is an A3 printer that gives you a real professional quality, as well as an unrivalled media flexibility.  Meeting the needs of graphic arts and creative industries, along with the usual office applications, this powerful machine removes the need for two separate office printers.
Plus, the ES9431 is also fully compatible with an optional EFI Fiery XF 5.0 server, which enables advanced colour management, including spot and process colours, optimising colour depth and print quality.
What is five-colour printing and spot gloss?
Both of these features are a true breakthrough in print technology – particularly for the creative and graphics industries.  With the OKI ES9541, you will have the option of printing in white or with a clear gloss finish – which is a process that traditionally could only be achieved through the use of expensive digital or lithographic printing equipment.