We are delighted to announce the Printerbase prize draw winner for December: Rev. Andy Sinclair!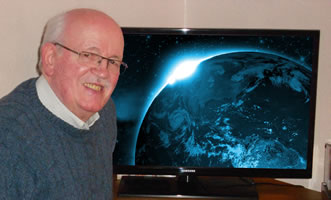 Andy landed himself a fantastic slimline 32″ television all for simply leaving an honest review of his latest purchase from Printerbase – a perfect late Christmas present!
Disaster struck the Sinclair household just before the festive period when his Kyocera monochrome laser printer decided to call it a day after 16 years of wonderful service.
Rather than mourn the loss, Andy acted fast and decided that a Kyocera 1320D was the best bet in terms of a replacement.  He placed his order with Printerbase on 19th December, though he doubted that he'd get his printer the next day as was advertised – it was Christmas, after all!
However, the next morning at 9:30am sharp, the doorbell rang with a delivery for Mr Sinclair.  By 10am, his new printer was up and running and he even had auto duplexing mastered!
Impressed with the quality of service, Andy filled in the customer survey and sent it off – not even thinking about the prize draw he'd just entered in the process…
Fast forward to the beginning of February and Andy's wife answers the phone and is told that a television is on its way!  Despite initial disbelief, the details are sorted and a delivery date is set.
Then, on February 11th, a brand new television is delivered – making Andy and his grandchildren very happy indeed!
If you want the chance to get involved with the prize draw or want to see the past winners – click HERE