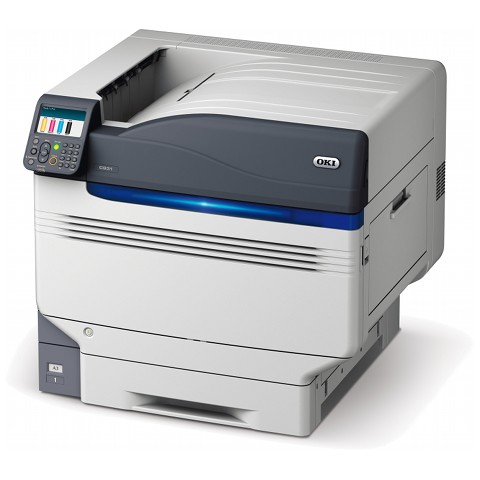 OKI Systems UK have announced that they will showcase brand new OKI printers that they believe is "The Brilliant Future of Printing" at Ipex 2014, the world's biggest English-speaking event for print, publishing and media.
Following the recent success of OKI Europe's participation at Viscom in Paris, Milan and Düsseldorf, IPEX 2014 is the ideal opportunity for the company to reveal its revolutionary new OKI printers for the Graphic Arts market in the UK. The centrepieces of the OKI stand will be two new innovations – the OKI ES9541 and the OKI C931.
The ES9541 is the first digital LED A3 printer in the industry to offer colour printing with the unique option of printing with a fifth colour. Users can now print on demand, the full range of process colours with the addition of a fifth spot colour in either white or clear gloss, enabling a wide variety of unique printing applications to be printed in-house, on demand.
The C931 is a four-colour digital LED A3 printer offering exceptional print quality and unrivalled media handling capabilities and is well suited to creative agencies and design teams where producing concepts that are as close to the proposed design as possible is essential for client approval. It can also be used as an office printer for day-to-day printing, eliminating the need for two separate devices.
Andrew Hall, marketing manager, OKI Printers UK, says: "We are very excited to have an opportunity to showcase these outstanding devices to the UK graphic arts market at IPEX 2014.
"These products offer a combination of stunning high-definition colour; cost-efficient, printing and media versatility that together are helping to reinvent digital printing for the creative and graphics industries."
"Following OKI Europe's success in showcasing the brilliant future of printing at Viscom, IPEX 2014 is the perfect opportunity to further reinforce OKI printers' continuing brilliance in producing ground-breaking technology solutions which meet the customer's real needs and help them achieve a competitive advantage," confirmed Pamela Ghosal, general manager, brand and marketing communications, OKI Europe.