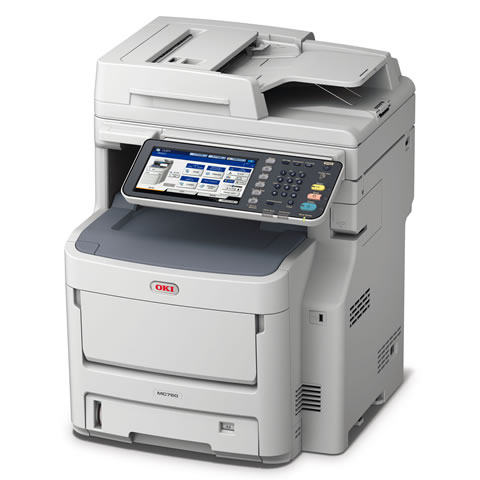 OKI Europe LTD have announced that they are to enhance the Optical Character Recognition (OCR) functionality across their range of OKI Multifunction Printers, with Recognition Server from leading document capture company ABBYY available as a low cost add-on.
OCR is powerful functionality that enables SMBs and workgroups to streamline their end-to-end document workflows and drive operational cost efficiencies through the conversion of paper documents or document images that organisations deal with on a daily basis.
Recognition Server from ABBYY offers enterprise-scale OCR and document conversion providing highly accurate conversion of images into MS Office formats (Word, Excel, PowerPoint) or searchable PDF and PDF/A for the purpose of structuring, searching and archiving. It enables automated, unattended document processing that can be managed and accessed from within an organisation as well as remotely with recognition of up to 190 languages.
OKI Multifunction Printers are designed to offer high quality printing and tailored document management solutions specifically for small to medium sized businesses. These robust devices are based on OKI's heritage of LED technology and provide cost efficient print, copy, scan and fax functionality, now with the added benefit of server-based OCR capability, to further streamline document workflows and deliver cost efficiencies.
"Managing document workflows effectively is no longer just an issue for large enterprise companies, but a concern for businesses of any size," says Javier Lopez, senior manager, managed print services, OKI Europe.
"OKI's Smart Document Managed Solutions strategy recognises the key role that printing plays in improving operational efficiencies and, as part of this, the enhanced OCR and document conversion capability within the OKI Multifunction Printers will enable smaller businesses to significantly manage their workflows better."
OCR and document conversion is ideally-designed for businesses processing large volumes of documents, including the digitisation of existing paper-based archives. SMBs can also convert documents from a range of sources, including OKI Multifunction Printers and network or desktop scanners and create digital, indexed documents for their document management and workflow systems.
"Paper is still an important source of information for many business processes and customers have identified cost savings of up to 30% as a result of smarter document management,"added Lopez.
"The addition of ABBYY's Recognition Server provides a simple yet powerful document capture system that enables firms to convert paper to searchable and re-usable electronic documents. This takes our MFPs to a new level of performance, providing customers with greater efficiency and productivity as they look to improve their competitiveness."