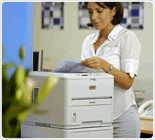 Is your business considering the jump to printing in A3? We have the perfect solution for you…
Our range of OKI A3 printers are some of the most competitively priced A3 printers on the web. The OKI C822dn comes with automatic two-sided (duplex) printing and is perfect for workgroups that print a lot of A4 documents, letters, emails, reports, proposals and also want the convenience of occasional A3. The fact is that most people print in A4 most of the time, but some documents, such as posters and large charts, diagrams and spread sheets, are much easier to understand if they're printed twice that size.
For those businesses that are considering the jump to A3 printing, here at Printerbase you can now trial one of our selected OKI A3 machines FREE of charge for 14 days.  You get to trial the printer in your working environment and see the benefits from the added features our OKI A3 printers possess.
Our 14 Day Free Trial is available on the following printers:
 C9655  C841n  C831n  C830  C822n  C821  C810 
For the 14 day free trial order form and full terms and conditions click HERE
If you would like one of our highly trained sales team to talk you through this offer then please call us on 0800 170 7234