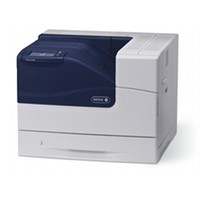 It's been a long time coming but we're pleased to report that Xerox has now launched its brand new high end colour laser printer – the fantastic Xerox Phaser 6700.
The Phaser 6700 replaces the Phaser 6360 machine but they've seriously ramped up the specs:
Print speed was 40ppm now 45ppm >> 12.5% increase
Basic RAM was 256mb now 1024mb >> 400% increase
Processor was 1Ghz now 1.25GHz >> 25% increase
Resolution was 2400x600dpi now 2400x1200dpi >> 100% increase in one dimension
Max. paper input was 2,350 sheets now 2,900 sheets >> 23% increase
Standard paper output was 250 sheets now 500 sheets >> 100% increase
New features include:
10.9cm touch screen user interface
Gigabit ethernet connection
Optional Finisher – 1,000 sheet output with offset collation and a 50 sheet stapler
256-bit encryption for data sensitive environments
160Gb Productivity Kit with optional Image Overwrite setting for increased security
Super high yield toners to minimise interruptions
One exciting addition is the new zero commitment PagePack available on this model. If you don't want to worry about planning for your next set of toner you can simply pay a set cost per page. There are no coverage limitations and if you don't print you don't pay. Simple!
Be one of the first to see a high resolution print sample from this machine:

If you would like further information, call us on 0800 170 7234 or 0161 308 5800.
Alternatively, we'll call you: Click here
Visit our Xerox Phaser 6700 page now: Click here