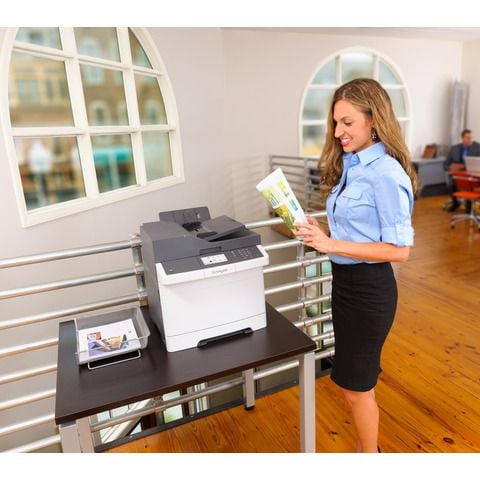 Lexmark have made it their aim to place a greater emphasis on the wide range of business benefits that come with their Managed Print Services.
The Managed Print Services from Lexmark, which are specifically designed to offer a shared print environment that is completely secure, can be deployed on site or as hosted software.
According to Lexmark, their Managed Print Services give businesses plenty of benefits, such as shrinking their carbon footprint and, of course, significantly reducing their print costs overall.  Not only that, but the service can introduce new functionality to the office, too – with the ability to strengthen access controls, security and compliance.
The service's tracking and accounting tools let businesses thoroughly monitor everything – whether it's print, copy or scan – that is sent from a user's device to an office printer.  The data from this can then be compiled into a report that gives you vital insight in terms of your printer use – allowing you to make amends where needed.  You could curb waste, for example, simply by implementing print quotas for certain users and groups, or restrict access to certain features, if need be.
The Managed Print Services also take mobile printing into consideration, allowing businesses to track activity and increase user accountability for what is being printed on a regular basis.
There is also a Print Release feature with Lexmark's Managed Print Services, which allows anyone in the office to send their print jobs from whichever device they're using and then release the jobs to any printer within the business, whenever they want to.  All of the documents that are sent are simply held in a print queue until released by the user.
Speaking about the Managed Print Services, Danny Molhoek, country GM at Lexmark UK & Ireland, said: "Research shows that organisations spend anywhere from one to six per cent of their annual revenues on office copying and printing.
"This gives our partners the tools they need to implement and streamline an output environment by helping to reduce unnecessary printing while providing greater mobility and productivity for the end users."
 Find out more about Managed Print Services HERE!