A4 Colour Laser Multifunction Printer
If you're looking for a seriously impressive A4 colour multifunction machine, look no further than the OKI MC561DN! We know you'll be amazed by the fantastic print quality this machine can deliver at print speeds of up to 30 pages per minute. The new MC561DN now comes as standard with double-sided print/copy/scan/fax functionality, network and USB connectivity and all topped off with an impressive 3 year On-site warranty for complete peace of mind.
The benefits of owning the MC561DN do not stop there. For the Eco-friendly and the cost-conscious amongst you, the MC561DN reduces both your impact on the environment and running costs to a minimum by switching to ECO mode to reduce energy consumption. This, coupled together with duplex printing and the scanning and copying facilities also helps save energy and reduce those ever rising electricity bills!
Just when you thought the OKI MC561DN couldn't possibly give anymore, this impressive package is topped off with a £50 cashback offer available till June 30th 2012 to reduce your overall cost even further.
Tricia in our accounts department uses one of these machines and says: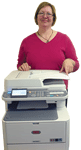 "This machine has been a godsend and I especially love how I can now easily scan to email straight from the machine using the front panel keyboard. The OKI is also far quicker than anything I've used before, which really takes away the headache of running last minute reports. In fact, I'm the envy of the office!"
Print – Copy – Scan – Fax.
Ideal for 1 to 10 users.
Automatic duplex printing to minimise waste.
Upto 28ppm colour print speed to reduce waiting times.
USB and Network compatible.
Full QWERTY Keyboard for instant search and typing of email addresses.
Scan to email,network PC or USB for flexible document distribution.
3 Year On-site Warranty.
£508.91 ex vat