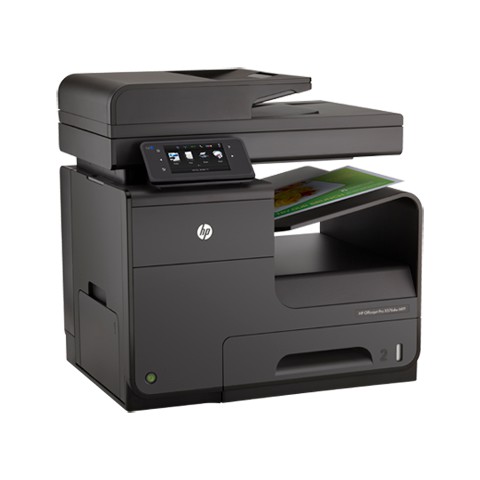 Speed is essential to any printer, no-one wants to wait around for what seems like an age when they're printing out a document, but when it comes to busy, demanding offices impressive speeds are a must  – so, why not opt for a Guinness World Record holder?  That is exactly what the HP Officejet Pro X576dw Multifunction Printer is!
The HP Officejet Pro X576dw set an official Guinness World Records title for the fastest time to print 500 sheets by an office colour desktop printer.  The record, which was set in Vancouver, Washington, USA in 2012, was adjudicated live by Wirth Consulting and Guinness World Records.
To achieve the impressive record, the HP Officejet Pro X576dw printed a sample 4-page category test file from the ISO 24734 standard testing printer speed testing procedure for 500 single-sided, continuous pages.  Six different devices, including laser and inkjet colour desktop multifunction printers, were tested in the fastest colour mode on A4 paper, with the HP Officejet Pro X576dw beating the closest competitor by around two-and-a-half minutes.
After the printing speed was calculated, the final prints were evaluated by Wirth Consulting, who took a variety of factors into consideration, including colour, register, definition, clarity and the degree to which it resembles the original digital image – with Guinness World Records having the final decision.
The HP Officejet Pro X576dw is capable of reaching such speeds due to their Page-Wide technology, which can print a page in a single pass, reducing the need for a regular inkjet printer's back-and-forth motion for each printed line.
Stephen Nigro, senior vice president, Inkjet and Printing Solutions and Graphics Solutions Business, Printing and Personal Systems Group, HP said: "Small and medium-sized business (SMB) customers constantly look for ways to save money and do more with less.
"The new HP Officejet Pro X Series is an ideal solution that delivers professional printing at a faster rate and cheaper cost than laser printers, while generating significantly less waste." 
Get the HP OfficeJet Pro X576dw Multifunction Printer HERE!