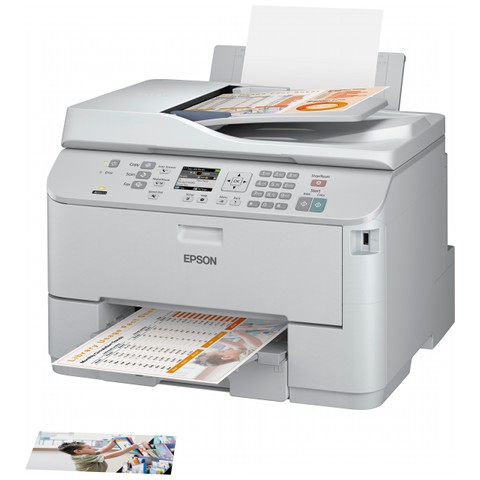 Epson Business Inkjets are set to become a huge part of the printer manufacturer's plans, with the company claiming that 'the future is inkjet'.
Epson will push further into the burgeoning business inkjet market, using a €125m investment to bring its industrial inkjet technology to the mass market.
The exciting new plans were revealed at Epson's 'Future of Business Printing' event, where Epson's VP of marketing for EMEAR, Rob Clark, explained that the rapid development of Epson Business Inkjets is seeing the technology move from the consumer to the office – with laser print technology likely to suffer as a result.
The main focus of Epson's push is the launch of a new range of WorkForce inkjet printers, which use PrecisionCore printhead technology – originally developed for industrial applications.
The first Epson inkjet range of printers was first launched into the consumer market in the early nineties, with its first Epson Business Inkjets – the WorkForce Pro range – introduced in September 2011.
Now, sales of Epson Business Inkjets have overtaken those of laser printers – and, with this impressive growth, a decision has been made by the manufacturer to further develop this side of their business.
Speaking to Channel Pro, Clarke explained the direction that Epson will be taking: "The laser range is there for us to provide to customers that haven't yet been convinced that inkjet is the way to go.
"For us the future is definitely inkjet-based. We fully expect to be switching people to inkjet rather than laser."
The idea of Epson Business Inkjets forming an integral part of the Japanese vendor's future is backed up by Phil Sargeant, programme director at IDC, who said that business inkjet printers make up a fifth of the overall small-to-medium business market in Europe – with this figure likely to increase, too.  In fact, the analyst predicts that, by 2017, business inkjet printers will make up 25% of the business and multifunction printer market.
"Whereas the laser market has suffered over the last few years with the economic situation, the business inkjet market bucked the trend, increasing year on year," said Sargeant.
"With Lexmark and Kodak withdrawing from the market, it's given the remaining brands greater opportunity…[But] many other vendors are casting a keen eye on the market as an opportunity, or they're aware of the impact inkjet is having on their own laser businesses."