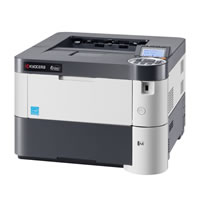 As today is Earth Day, here at Printerbase, we thought it'd be a good idea to recommend you a printer that could significantly reduce your environmental impact.
Many businesses will be making an effort on Earth Day, so why not make a long-term change that will have a lasting effect?  After all, by making a simple alteration to your printing setup, you could save money and energy.
The Kyocera FS-2100DN Mono Laser Printer is ideally suited to small workgroups or single users, who have one eye on their carbon footprint.  Coming with automatic two-sided printing to save on paper, this reliable performer comes with long-life components that will cost you and the environment much less – all while providing exceptional durability.
Controlled by an easy-to-use LCD display, this network-ready device delivers great quality prints at fantastic speeds of 40 pages per minute, with low running costs, too.
With Printerbase offering a fantastic discount of over £94, now is the time to make the upgrade!
Get the Kyocera FS-2100DN HERE!