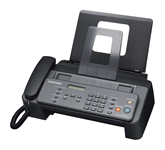 The Samsung SF-370 and SF-375TP inkjet fax machines are now discontinued.
Samsung do not currently have a direct replacement model so we would recommend taking at look at the following links:
Fax only machines:
https://www.printerbase.co.uk/faxsearch.php?…
Multifunction machines with fax:
https://www.printerbase.co.uk/mfpprintersearch.php?…
We would recommend opting for a multifunctional machine with incorporated fax. These models will work as a standalone unit but can also be connected to a PC and will Print, Copy, Scan and Fax. They also tend to be better built and are still relatively cheap to buy.