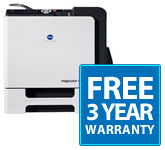 The Konica Minolta magicolor 5670 range of machines all ship with 12,000 pages of cyan, magenta, yellow and black toner!!! That's worth approximately £560.00*+VAT but the machine only costs £559.50*+VAT!
Plus Konica Minolta are giving away a free 3 year on site warranty with every magicolor 5670 sold.
To find out more and to purchase one of these brilliant machines please call our sales team today on 0800 170 7234.
* pricing correct on 20/05/2011
More info on the Konica Minolta magicolor 5670: click here