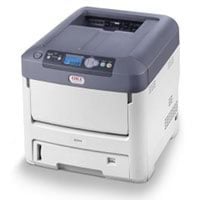 We have an incredible deal of the week this time around, with OKI's extremely impressive C711 A4 Colour LED Printer now available.
Offering a superior performance that you know you can depend upon, this machine is the ideal addition for any office needing real quality.
Compact and robust, this OKI is intelligently designed – allowing it to fit in even the smallest of offices without taking up too much space.  When it comes to printing, impressive speeds mean that waiting by the printer is no longer an issue and, with its flat paper path, you no longer have to worry about your paper curling, either!
A superb print quality means that you'll be getting bright, vivid colours and sharp text each time – allowing for a much more professional image.  Despite its unbelievable specifications, it has a genuinely low total cost of ownership, too – with optional high-yield toners and long-life image drums keeping costs to a minimum.
Now, as part of our deal of the week, you can claim £100 cashback, a FREE three-year warranty and a FREE Sat-Nav – also, on top of that, we have decided to give you an extra £50 off until Sunday 28th July!
An unbelievable deal that you cannot afford to miss out on!
Get the OKI C711 LED Printer HERE!