Today marks the 177-year anniversary of photo printing and to celebrate, we want you to stop sharing, and start printing!
In that 177 years, photo printing has undergone some pretty drastic changes. Way back when, the art of photo printing was actually a lot more complex than it is now, and everything was strictly in black and white. Nowadays, however, as technology has become more advanced, and our knowledge of photo printing has developed, we are able to print high quality colour prints in no time at all, at the touch of a button.
Though it has to be said, as photo printing has become much more accessible, we seem to have forgotten exactly how valuable physical prints really are.
We've all become accustomed to uploading our photographs on social media. Sites and apps such as Instagram, Facebook and Twitter have become an increasingly popular way of sharing our photos with our families and friends quickly and easy.
There is something that little more sentimental about an actual printed photograph, though – don't you agree?
At home, we all have that huge box of old photos that always makes an appearance when family and friends are round. We just love looking back at old times and reminiscing – it's great fun. So why is it that so many of us have completely abandoned traditional photo printing?
Professional quality photo printers are now available to purchase so that you can print your most memorable photographs in the comfort of your own home. So, with all that in mind, what better time to abandon the share button, and start printing?
At Printerbase, our best-selling photo printer is the sleek and compact, Canon Selphy CP1200. Available in both black and white, this cute little machine is brimming with features including postcard-size prints in just 47 seconds, 300 x 300 dots per inch resolution for stunning colour prints, multiple connectivity options and a state-of-the-art LCD display – ideal for printing your favourite pictures and displaying them in your home.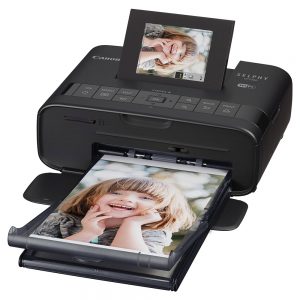 And guess what, it's a complete bargain too! At just under £80, with the CP1200, you get a whole lot of printer for your money! So, what are you waiting for?! Check out this fantastic printer now by clicking here.