CEL has recently made an exciting announcement within 3D print world. They are launching the first dual-material print head allowing users to print in two different materials at the same time. The print head, which is featured in their Robox model, is going to open up a whole new world for the 3D print crowd.
The Benefits
Making the unprintable, printable
The main advantage of the new dual-material head is that users can create and print designs that were previously unprintable. There's now the ability to create models using two different colours and two different materials, creating a host of new possibilities for 3D model creators.
The Robox can now print a softer material alongside a harder one. Think plastic lids with a rubber seal (personalised lunch boxes!), or flexible watch straps with pins – the possibilities are endless. Previously impossible prints are now possible…and practical!
The Technology
Each material is treated individually for better results. The dual-material head uses two separate compartments, melting each one independently to an optimum temperature.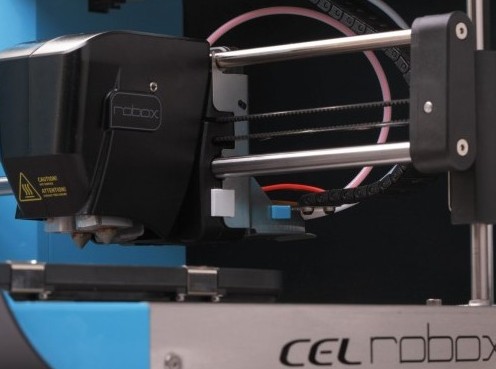 You can also expect enhanced accuracy and speed from the 0.4mm nozzles. To stop 'cross-infection' between materials, 3D printers will often produce a small amount of waste when swapping filaments, however, the Robox system cleverly shuts off the material flow. This ensures speed and quality whether you're printing in different colours, different materials or both – without the need for wiping, retracting or cooling the heads.
The material reels are hung onto the side of the Robox printer and the addition of a simple adaptor allows the intelligent reel system to recognise which material it's working with. Combining this system with the Robox's closed feed-back loop and dual-pinch wheel extruder system ensures that each filament is fed to its respective nozzle evenly.
What CEL Have to Say…
Chris Elsworthy, CEO of CEL, commented: "3D printing has the potential to change the way we design and create products and the launch of our dual-material head means another step change in the complexity of items our users are able to print with Robox.
"We're really excited to be able to offer this new 3D printer head to our customers and allow them to create new prints they never could have dreamed of 3D printing before! Users will still get all the reliability and quality they have come to expect from a Robox printer, but now with the ability to print in two materials at the same time."
Thanks Chris… we can't wait to try it!