Make the switch with Epson

Are you worried about the impact that your everyday actions and behaviours are having on the environment?
Do you want to promote a greener workforce and reduce the volume of waste and energy produced in your home or office?
If so, it's time to Make the Switch.
Epson's greatest crusade yet, the 'Make the Switch' campaign, is all about 'preparing for tomorrow', educating people to be mindful of their actions today, so that the world we live in will be a greener place tomorrow.
Using specially engineered technologies, the eco-warriors and printer experts at Epson are on a mission to develop products and solutions that have minimum impact on the environment, and with their new campaign, 'Make the Switch', customers can look forward to experiencing all of the following:
96%
More energy efficient
94%
Less waste than lasers
Green
Technology
No ozone gas
The Make the Switch campaign pledges to deliver in three fundamental areas...
Energy Saving
Using Epson's new, innovative technologies, by making the switch, customers can look forward to guaranteed energy saving. With up to 96% lower energy consumption than lasers, with Epson WorkForce Pro printers, it's not only about reducing electricity costs, but helping businesses to meet their environmental targets, too. The reason that inkjet printers are so much eco-friendlier than lasers is because inkjets do not use heat during the printing process. And, as a result, they consume much less power than laser printers, which, ultimately, reduces the running costs at the same time.

Waste reduction
Results founded by independent tests revealed that Epson's WorkForce Pro models produced as much as 94% less waste than copiers and lasers. Unlike lasers, these machines do not emit any ozone gases, and there are also significantly fewer replaceable parts and consumables than comparable lasers, too. In a bid to keep costs to a minimum, Epson offers a variation of ink cartridge sizes that guarantee prints look superb, and are completely hassle-free to replace.
Easy Integration
Epson's range of WorkForce Pro machines have been specially engineered to boast simple management and configuration features. With Epson, users can manage and control an entire fleet of printers and scanners with ease. Plus, thanks to the easy installation, maintenance and troubleshooting processes, increased productivity and cost savings are guaranteed.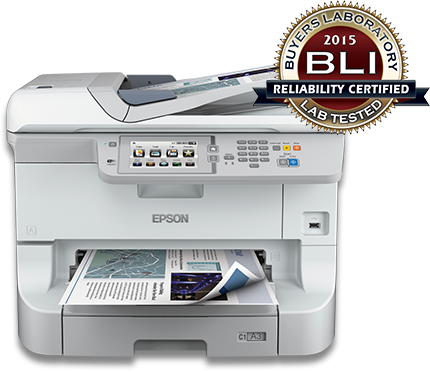 Free 2nd & 3rd Year On-Site Warranty
Trade in & Claim £75 Cashback
FREE Full Set of Inks Worth Over £170
BLI Award Winner*
Featuring print, copy, scan and fax functionality together with incredible print speeds of up to 34 pages per minute, the Epson WF-5690DWF has it all - and the low running costs mean that it won't cost you the earth. This machine also boasts a 10.9 cm colour touchscreen for optimum usability, and low power consumption, helping you reduce waste and costs.
£284.76

ex VAT
£341.71

inc VAT
*BLI (Buyers Laboratory) are document imaging experts and their awards give special recognition to manufacturers and outstanding products that perform above competitors in BLI's lab tests.
1 - IDC "Installed Base: Verticals and End-User Segments Western Europe (2015 data)"
2 - International Energy Agency report "CO2 emissions from fuel combustion"