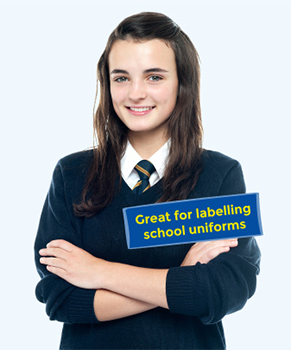 Back to school
Personalise & Organise with
Brother Fabric Tape
Are your kids always coming back with the wrong jumper? Losing their P.E Kit?
Misplacing their pencil case? Brother Fabric Tape can help.
Simply print their name on Brother Fabric Tape and directly iron it onto any type of garment, including school uniforms, P.E Kits, bags, pencil cases and much more.
Brother Fabric Tape gives you an easy iron-on label solution that keeps items safe and secure, as well as giving you peace of mind.
Learn More
Buy Fabric Tape
It's almost time for the kids to go back to school... Get organised with Brother Fabric Tape
Brother PT-H105 Label Printer
Once you get your hands on the Brother PT-H105 Label Printer, you'll wonder how you ever lived without one - they're deceptively useful!
Portable and incredibly easy to use, the Brother PT-H105 can print labels up to 12mm in width, while the built-in cutter gives you an accurate label length.
As well as getting the kids ready for the new school year, you can also use the Brother PT-H105 to organise the home - label CDs, DVDs, games and storage boxes with ease.
Get the perfect labels for the home every time.
View the Brother PT-H105