We love receiving reviews from customers on the printers they buy from us. The Xerox Phaser 6010 is one of our best selling small colour printers; please take a look at what our customers had to say about it.
My report is simple the three "Q's"…Quick-Quiet-Quality.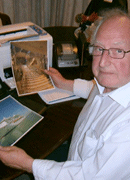 The machine is most impressive for its tiny size. It is very easy to load the consumables-the office junior would have no trouble in clicking a cartridge and the 150 sheet paper magazine is a perfect quantity for a small run. Print quality is excellent and as a keen photographer, this is a most important part of my assimilation of the machine. All in all, a good buy for he smaller office or home use perhaps ideal for the Golf Club secretary!
Should be near the top of anybody's "wish list"

Bill Kerr – Ballachulish, Argyll
Upon receiving the Xerox 6010 Phaser, we were firstly surprised at the ease of setup.  Basically we just plugged it in, connected it to the computer and the setup CD did everything for us with a series of icons that we just clicked on.  The printer itself is also very compact and doesn't take up a lot of room so will fit in to the smallest of corners and the paper feed is located at the bottom front so you haven't got paper hanging out of the back (Which was a problem on our previous printer). 
The Xerox is also remarkably easy to use.  With a single LCD screen and a circular navigation button system on the top, everything is grouped together with no complicated Menu or settings to fiddle with, just straightforward and that simple to use, even we could do it!!
The paper feed tray holds an impressive 150 sheets of paper and also has a separate manual feed, which makes life easier.  The printer is very quiet whilst working especially compared to our old one, which was really noisy in comparison (Epson R300), and the print speed is very quick.  We use this printer mostly to print Certificates for our Karate Club and related paperwork.  We have just had a Belt Grading at the club and used this printer for the Student's Certificates etc and it performed flawlessly, saving us a HUGE amount of time in comparison to our old printer due to the Xerox's print speed.  The certificates have never looked so good!  The black text printed solid and the colours were very bright and clean and looked very professional. 
The Images we printed were very vivid and sharp and the Xerox printed everything EXACTLY as it app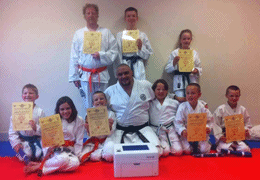 eared on the screen.  In our opinion, the print quality of the Xerox would rival any High Street Commercial printing service.
We would deem this printer PERFECT for a Karate Club, or any other club or organisation, which requires Certificates printing or similar. 
All in all, the Phaser is quiet, compact, delivers unrivalled quality prints, is simple to use and has a very impressive print speed.  We are VERY happy with the 6010 and would recommend it without hesitation to everyone who is considering buying one!!
Darren Smith, Heyrod karate – Dukinfield, Cheshire

The Xerox Phaser 6010 promised to be the perfect small office printer and we were delighted to receive it the other day. We were a bit anxious at first as the box it came in was quite large. However, we were pleased to find the printer itself was small and compact and did not take up much desk space. The instructions were very clear. We only use Apple Macs in our office and installing the software from the disk was extremely easy as it usually is for a Mac system. Obtaining the printer's IP address to connect to our network was also very straightforward and the process was easy to follow and carry out. It took about 15 minutes from unpacking, setting up the printer and printing out the first copy – basically 'plug and play straight out of the box!'
The print quality was very good with crisp clear black text, well-balanced colours that were slightly on the '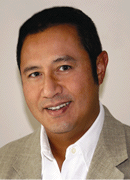 vivid side' but we much prefer this than to have dark, muddy colours. Colours in the images themselves were very natural and were much better than our larger Xerox Phaser 7400DN printer, which we normally use for printing our designs and layouts. On top of all this, the printer is very quiet and smooth in operation and copies print quickly well within the timescales claimed by the manufacturer. We have had printers in the past that were extremely noisy and vibrated when waking up from Sleep Mode or printing. The only criticism I would have would be that the Paper Tray fittings feel a bit flimsy and could easily break if someone knocked the tray by accident. In summary, the Xerox Phaser 6010 is an excellent, versatile, compact colour printer and is perfect for the small studio or office for general everyday printing.
Brian Liu, Imagine Design Associates – Bath
Let us and others know what you think of the printers you have purchase and share any handy tips and suggestion by emailing a review to reviews@printerbase.co.uk or leave a review on the product page.