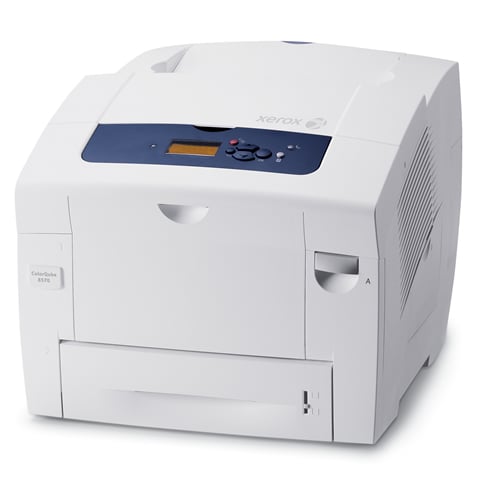 Here at Printerbase we use Xerox's Solid Ink Technology and love the output, ease of use and reliability. It also helps us to do our bit for the environment thanks to Xerox's unique technology, which uses a fraction of the energy a laser printer uses when printing. Their biodegradeable non-toxic wax blocks are cartridge-free  (unlike toner, which requires an outer plastic cartridge) means that packaging is kept to the absolute minimum, reducing storage space and the associated transport implications. The waste packaging is fully recyclable making this an excellent choice for a carbon considerate office.
Xerox have taken their technology to the next level with the new ColorCube 8570 (the replacement to the Phaser 8560). As expected, the print speeds have been increased to an impressive 40ppm in colour and mono, the processor is now a whopping 1Ghz and there's 512MB of RAM as standard.
However, the real advancement worth shouting about is the research Xerox have done to refine their solid ink blocks. This new wax now has a much lower melting temperature, which means that its warm-up time from power-up has been improved and the energy used in standby has been reduced enough to become ENERGY STAR® qualified.
More Info: Xerox ColorQube 8570 Printer