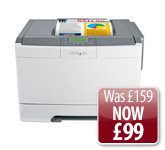 Historically Lexmark had quite an unfortunate reputation thanks to their old inexpensive inkjet range, which was often given free with PCs, monitors, etc. But things have changed and Lexmark are quickly altering people's opinion. Their new range of multifunction inkjets are worlds apart from their earlier models and we're the first to recommend them.
This moves us nicely to Lexmark's entry level C540n colour laser printer, which is the next logical step-up from their business inkjet range. This machine is ideal for a home or small office with a modest print requirement of up to 500 pages per month. Unlike their inkjet range, this machine only prints (no copy, scan or fax) but thanks to this machine being a toner based printer you will get professional looking printouts at print speeds of up to 20 pages per minute.
But don't take our word for it...
PC Pro
"An unassuming colour laser that offers rapid high-quality prints and network connectivity all for a low price"
Rating: 6 out of 6
MacUser
"We liked several of the colour lasers on test this time, but the C540N is the clear all-round winner"
Rating: 5 out of 5
WedUser
"...all-round flair makes it an accomplished printer at a fair price - an obvious candidate for our Gold Award"...
Rating: 5 out of 5
More info on the Lexmark C540n: click here