You've probably read about how easy it is to replace the Solid Ink blocks in Xerox's Solid Ink printers, however, do you realise just how simple it actually is?
Here at the Printerbase office, we've put together a short demonstration to show you just how quick and simple it is.
Open the lid, drop the Solid Ink block in, close the lid - then you're done and instantly ready to produce high-quality, vivid prints...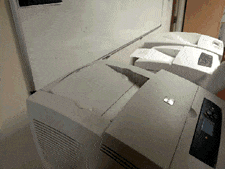 Check out the range of Xerox Solid Ink Printers below:
Xerox ColorQube 8570N, 8570DN & 8570DT Printers
Xerox ColorQube 8870DN Printer
Xerox ColorQube 8700 Solid Ink Multifunction Printer